JPCERT/CC activities are aimed at providing practical measures for the prevention and resolution of security incidents.
This is achieved through the use of advanced analysis techniques to assist companies and other organizations in adopting countermeasures.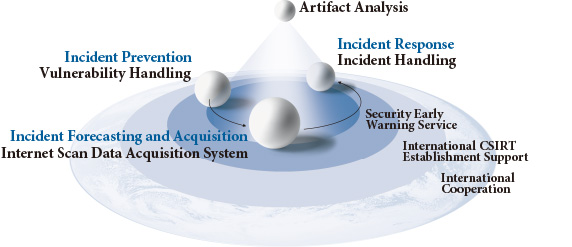 Vulnerability Handling

Vulnerability handling is a process to publish accurate vulnerability information in order to reduce the likelihood of possible incidents. JPCERT/CC provides vendors with information on detected vulnerabilities, requesting patches and workarounds. It manages advisory releases schedule with international CSIRTs and other related organizations so that vulnerability information can be published at the same time. JPCERT/CC publishes the information on JVN, a vulnerability alerting portal site.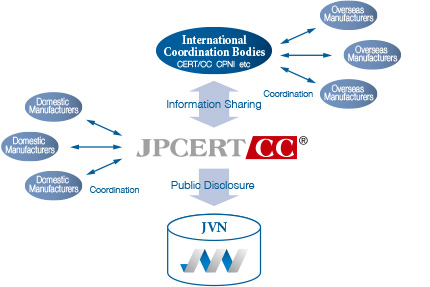 Internet Scan Data Acquisition System: TSUBAME
JPCERT/CC has deployed a system with sensors distributed throughout the Internet to observe various scanning activities such as worm infections and vulnerabilities. The observed data is analyzed and used for providing security awareness programs. This data is analyzed in cooperation with other observers and international CSIRTs.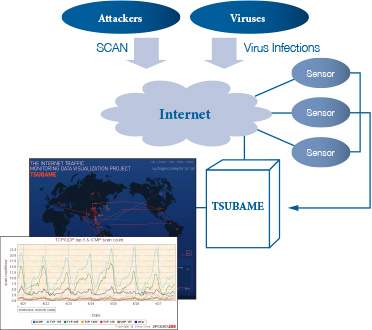 Incident Handling
As a CSIRT working in cooperation with domestic and international CSIRTs, JPCERT/CC receives incident reports and provides support as necessary. For example, if it receives notification of a phishing site detected in a foreign country, it works in cooperation with that country's CSIRT and requests closure of the site. Information about the incident and countermeasures are exchanged and shared to minimize the damage and prevent future recurrence.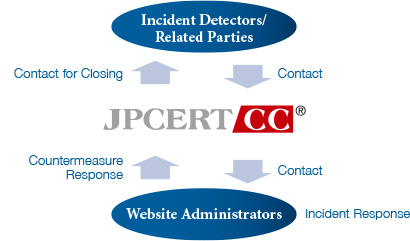 For incident related information please contact us as follows:

Email: info@jpcert.or.jp
Security Early Warning Service
JPCERT/CC has collected and analyzed various types of domestic and international threat information through vulnerability handling, TSUBAME, incident handling and published security alerts. Countermeasure information is provided to domestic critical infrastructure organizations including electric and gas companies, airlines, and railway companies. JPCERT/CC has provided support for establishing an internal CSIRT for organizations, while performing cyber security exercises to enable these organizations to conduct incident responses properly.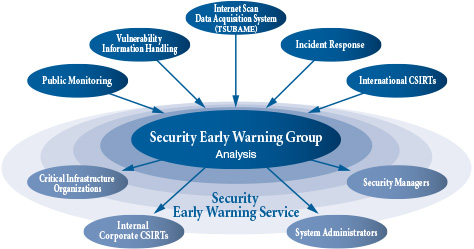 International CSIRT Establishment Support
JPCERT/CC has provided expertise and technical support for establishing national CSIRTs in the Asia-Pacific region. In addition, it provides periodic incident response training to strengthen cooperation among national CSIRTs and to better prepare for emergencies.
Artifact Analysis
JPCERT/CC analyzes malware and its related technologies (artifact) which can be used for cyber attacks and conducts research on countermeasure techniques. The findings are incorporated into the published information that forms the basis of JPCERT/CC activities. JPCERT/CC has made approaches to share analysis within the community.
Industrial Control System Security
To promote security measures for industrial control systems, we introduce guidelines and tools, as well as cases that illustrate advanced measures or otherwise merit attention, through security conferences, the portal site, and e-mail newsletters.
Portal Site for Safe and Secure Infrastructure
This portal site provides security alerts and countermeasure information on a timely basis and is dedicated to particular users, including critical infrastructure organizations. This site is designed to assist the incident response activities of such organizations .
Vulnerability Decision Assistance
An assistance program that provides efficient countermeasure deployment methods for organizations based on decision making rules and threat analysis criteria created by each organization. It assists these organizations in conducting efficient vulnerability management.