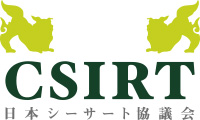 Nippon CSIRT Association
The Nippon CSIRT Association (hereafter NCA), an organization comprised of internal CSIRTs operating in Japan, was founded with the aim of facilitating cooperation and sharing of information among CSIRTs in Japan, as well as promoting and assisting efforts to establish internal CSIRTs.
NCA was launched on March 28, 2007 by the following six teams: Hitachi Incident Response Team (HIRT), IIJ group SEcurity Coordination Team (IIJ-SECT), Japan Computer Emergency Response Team Coordination Center (JPCERT/CC), Japan Security Operation Center (JSOC; LAC Co., Ltd.), NTT Computer Security Incident Response and Readiness Coordination Team (NTT-CERT), and SoftBank teleCommunications Security Incident Response Team (SBCSIRT).
The increasingly sophisticated and complex cyberattacks targeting organizations have called for a number of CSIRTs to combine their efforts for a rapid response, accelerating the move to establish internal CSIRTs and join NCA.
In 2012, the Information Security Policy Meeting requested to establish an internal CSIRT function within government agencies, and this move subsequently spread among private organizations, promoting the establishment of internal CSIRTs.
NCA membership has also expanded as a result; in addition to the CSIRTs of IT companies that initially made up the membership, members currently include those of banks, insurance companies, construction companies, hotels, automakers, and academic research institutions, among others.
As of April 1, 2015, NCA membership comprises 83 teams.
List of NCA members: http://www.nca.gr.jp/en/member/index.html
NCA provides information to promote the establishment and activities of internal CSIRTs, such as the CSIRT Starter Kit, which provides information needed to establish a CSIRT, and explanations of incidents and overview of published information that is useful in responding to incidents.
In addition, NCA offers support for establishing and operating CSIRTs through seminars and working groups for companies considering establishing a CSIRT, as well as consultation meetings to discuss operational issues.
More information on NCA is available at the URL provided below.
http://www.nca.gr.jp/en/index.html
JPCERT/CC has been serving to NCA as its Secretariat since its foundation.